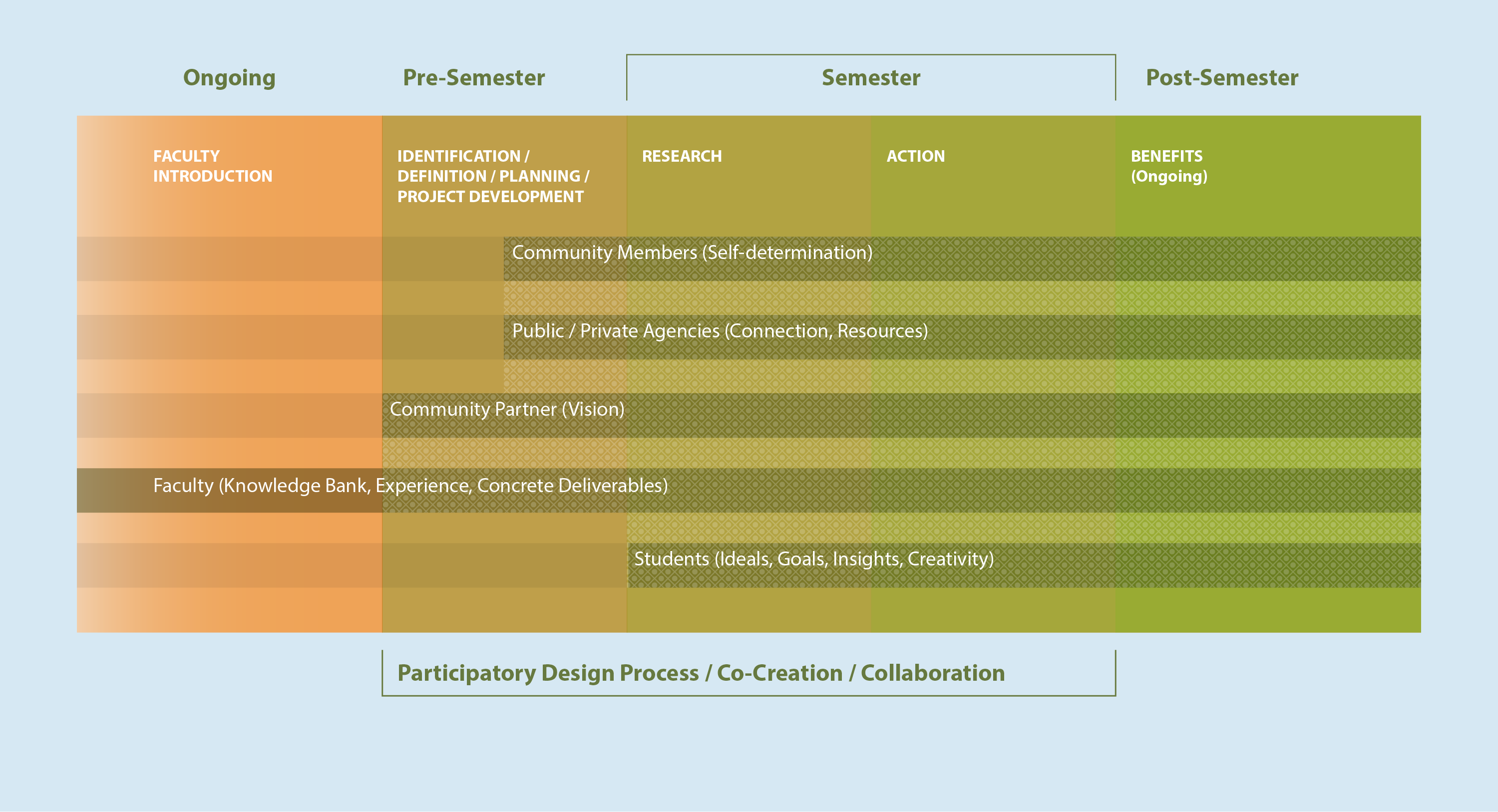 Working with communities adds time to the time it takes to prepare for a class. The work often extends beyond the limits of a 15-week semester and there may be a need to shape class deliverables into materials that have optimum use for communities, which adds time after the end of the semester.
The chart above is illustrative only, but know that you are entering into a process that has extra demands, but also multiple benefits. 
RAMP advances an interdisciplinary research and design curriculum across the Institute that is co-created with our community partners. 
RAMP projects can vary by type, geography, and focus, but share a set of components and values. These projects:
Address a clearly defined challenge to a community posed by climate change;

Depend upon and execute a community engagement process from definition of the challenge to the deliverables, including co-creation of the curriculum;

Encourage a cross-disciplinary platform, including hosting extra-curricular activities that create space for the exchange of information between the Institute and our community partners;

Create a platform for students to actively shape their learning environment, mimicking and preparing them for real-world situations; 

Contribute to a shared Knowledge Bank regarding climate change and community based on that coursework;

Deliver design/knowledge to the community for their future use.
The RAMP Working Group is a group of faculty and stakeholders experienced in community-based research and design who provide guidance and connections to Institute faculty and to community-based organizations who want to participate in the RAMP curriculum, and ultimately, will approve proposals that meet the standards of a RAMP project. 
Want to learn more? 
If you are interested in collaborating, please fill out this brief survey. If you have any issues or questions, please contact RAMP@pratt.edu. Once we receive your survey, the RAMP Working Group will evaluate the potential for collaboration in light of the needs of our community partners. You will be contacted within two weeks with a determination and suggestions about how to move forward.